How to Transfer Photos from iPhone to Computer on Windows without iTunes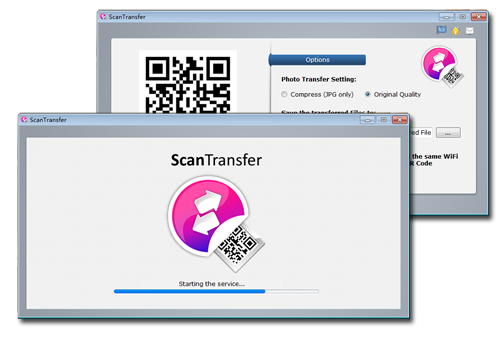 iPhone is a popular phone brand from Apple that is known for its cutting edge innovative technologies and customer satisfaction. The high-quality lens implemented in the device lets you take crystal-clear photos with ease. Before the phone camera marketplace got crowded with the emergence of brands like Google Pixel and OnePlus, the iPhone was considered as the first choice for taking breathtaking pictures. Apple's latest phone, iPhone XR, comes with advanced camera features that promise a new era of photography.
But how would you transfer your photos from your iPhone to your desktop or laptop computer? Sure there's an option like iTunes, but it runs very slow and the operation is very complicated.
Scantransfer Lets You Transfer Photos From iPhone to Computer without iTunes and the USB wire
With
ScanTransfer
, you can transfer your iPhone photos and videos to your desktop computer without USB wire and iTunes program. It is a light-weight software product that you only need to install in your PC and then it works as a file receiver in Local Area Network configuration. This means you won't have to rely on your internet connection, speed, data limit, etc.
It works on the principles of QR Scan technology. Once you run ScanTransfer, it'll generate a QR code which you could scan on your iPhone. Once done, the software will start doing its magic.
Here are some benefits of using ScanTransfer for transferring photos:
- No internet connection required, Wi-Fi is enough.
- Faster bulk transfer at once.
- Transfer from multiple devices at once.
- Light-weight. Just 20 MB in size.
- Safety guaranteed with private LAN transfer.
- No apps or software requirements on the iPhone or iPad.
- Easy to use interface.
- Supports 10+ languages
How to Transfer Photos From iPhone to Computer with ScanTransfer?
Transferring your photos from iPhone to your personal computer has never been easy. Just follow the steps below:
1. Download ScanTransfer to your PC and run. It will generate a QR code.
2. Open your iPhone camera and scan the QR code. You can also use Twitter or any QR scanner app.
3. Click on "Select+" button and select photos or videos you'd want to send to your PC.
4. Click on "Done", and it'll start transferring.


With ScanTransfer, you can run multiple transfers at once. ScanTransfer is not just limited to iPhone to computer transfer, but it can be used for Android devices as well. Furthermore, it can transfer documents, compressed files, and other files from Android phones (depends on Chrome version and Android device type). Thus, it is a perfect one-stop solution for all your data transfer needs.